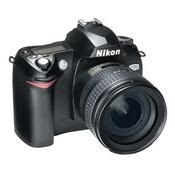 Both the pro-sumer and the shaky-handed amateur put their pics onto Flickr these days, showing the world intimate details about where they go and who they see. But what cameras do they use to snap these pics? Yahoo! Shopping Blog just put out an article, after scanning all the EXIF properties of the pictures no doubt, showing you what the top 10 cameras used on Flickr are.
Nikon D50
Nikon D70
Canon EOS Digital Rebel XT
Canon EOS 20D
Canon EOS 350D Digital
Nikon D70s
Cybershot
Canon Powershot S2 IS
Canon EOS Digital Rebel
Nikon D200
So if you're looking for a camera, getting one of these would probably be a safe bet.
Top 10 Cameras Used On Flickr [Cybernet News]