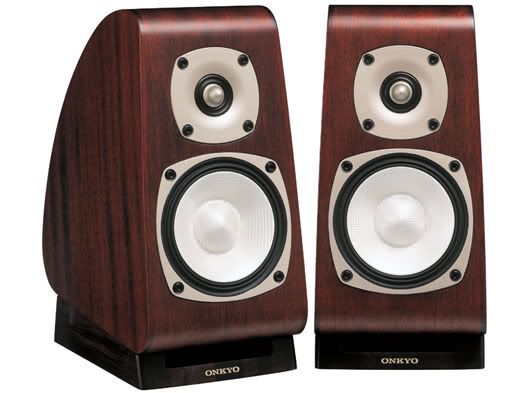 The D-TK10 guitar speaker, developed by Onkyo and renowned guitar manufacturer Takamine, is a revolutionary cabinet that is modeled after a guitar. It features a freely-vibrating thin-wall enclosure based on high-end guitar construction to create a much fuller and richer sound. The speaker has strategically placed struts, stringers, and thickness variations (like a guitar) so it can harness and control sounds that would normally be lost in another speaker system. The bass cabinet is made of mahogany and features a 4-inch cone woofer for the lows and a one-inch ring-drive tweeter that can reproduce frequencies up to 100 kHz.
"The Onkyo D-TK10 also features gold-plated binding posts that are compatible with banana plugs, spade lugs, or bare wire. The speakers are magnetically shielded, allowing them to operate near video equipment without degrading picture quality."
These are some very well made speakers, so well made that Onkyo only releases fifty pairs a month due to how much work is put into each pair. Each pair will run you around $1,999.00 but if you've got a high-end studio and are looking for some great new monitors, the D-TK10s are definitely worth a listen.
D-TK10 [Product Page]