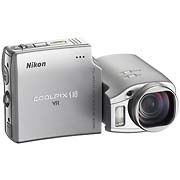 What have we here? Five new Nikon cameras? Let's go down the list:
COOLPIX S10 – Shown above – 6.0-megapixels with 10x optical zoom. On board movie/image editing and 2.5-inch LCD with swivel. 16MB of on-board memory. Available in September for $399.95.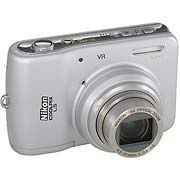 COOLPIX L5 – 7.2-megapixels with 5x optical zoom. SD memory card compatible and vibration reduction along with a 2.5-inch LCD. $299.95.

COOLPIX L6 – 6-megapxels with 3x optical zoom. Wondering exactly it's named L6 when the better camera is called the L5. Power handling allows for 1,000 pictures on one charge. 23MB of internal memory. Available September 2006 for about $199.95.

COOLPIX S9 – 6.1-megapixels with 3x optical zoom. Very thin, very portable. $249.95.

COOLPIX S7c – 7.1-megapxiels with 3x optical zoom. Vibration reduction built-in along with a Stop Motion feature and Wireless Transfer which sends images to computers or printers over Wi-Fi. Interestingly, T-Mobile is working with Nikon to offer hotspot access. $349.95.

Whew. That was quite a mouthful. Overall, quite a collection of point-and-shoots with some compelling prices – 6-megapixels for $200 isn't bad at all. I like a good Nikon and I think the S10 has a lot going for it, especially with the uber-hot swivelation.

Product Page [Nikon]