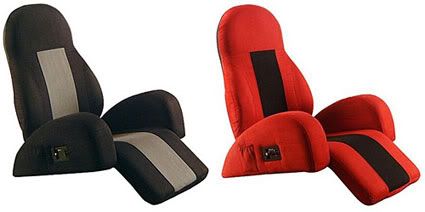 Just when you thought that iPod accessories couldn't get any more ridiculous, furniture-maker Adonis announces a line of iRocker chairs. These "interactive sound chairs" carry an onboard iPod dock, along with speakers sets that vary depending on which chair you buy.
The iRocker chairs range from $99-$600, depending on what suits your price range. The higher-end models come with a set of five Alltek Vision speakers (that's sort of an oxymoron) with a remote control, so you can rock out and relax (that too) without having to move. And the lower-end models come with a standard pair of speakers.
Either way, both chairs include an auxiliary input in case you don't own an iPod (there are people who don't own iPods?!), but you will have to keep an eye on the device's battery. The chairs also come in a wide range of colors ranging from micro fiber, neutral black, bone and saddle colors for the faux-leather models. So, if enjoy sitting and iPod, the iRocker might be for you.