September is here and maybe you or someone in your household–you know, the kid upstairs with the headphones who listens to that demon hippity-hop music?–might be in the market for some back to school technology. Here's a quick rundown of our favorite picks from the past few months.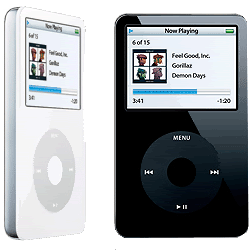 Media players have become a staple amongst students. This is an overly congested field, but the iPod Video (about $350) still retains a majority of the market share. With 60GB of hard drive space you can fit quite a few episodes of "The Hills" and still have room to burn. There are some rumors that Apple will be upgrading the iPod in either September or November, so if you simply can't wait to get one of these, be prepared for a bit of buyer's remorse.
Creative is also launching a slew of handheld media devices including the Zen Vision W with 4.5-inch screen for movies. It should be available in September and comes in 30GB or 60GB versions.
Another gadget to consider is the Sirius Stiletto 100, a portable media player that picks up Sirius satellite radio signals and, most importantly, Howard Stern. It will cost $399 and will be available this month.
A great feature about most smartphones is that they can also be used as a portable modem for your laptop. Even if you're out of range of a WiFi hotspot, you can still get broadband-like speeds with EV-DO or EDGE. Some of the newer smartphones even feature real 3G speeds, equalling, or even surpassing, many DSL modems. With subscriptions for these data plans starting at less than most home broadband connections, WiFi almost becomes redundant. Almost.
The Treo, by Palm, has almost become the standard that other smartphones are held to. The easy-to-use Qwerty keyboard makes the learning curve a soft one. From a features standpoint, there's not much not to like about the Treo, and the fanbase backs that up. The built-in software gives you email, web browsing and MP3 playback. It is also capable of editing documents in Word, Excel and Powerpoint. Add a few (often freely) downloadable programs from the Internet, and it becomes a full multimedia powerhouse. The screen is just the right size for most of the thousands of games available, and there are several instant messaging solutions available to keep you connected to your friends on Yahoo!, MSN, AIM, Jabber, you name it.
There aren't many things wrong with the Treo, and most of them are related to the product getting fairly long in the tooth. While the camera takes pretty good photos for the web, it's still sub-megapixel, and has no flash. Most new high-end smartphones are coming with integrated WiFi. Even with an SDIO card, it's not an option with Treo. That's probably a good thing, because even without the high-powered radio inherent in WiFi, you'll be charging the battery at least once a day, if not more. We'd recommend a USB charging/sync cable, so you can take advantage of those unoccupied USB ports to give your Treo some quick juice.
This year, the desktop is dead in the dorm room. With the rise of ultra-light notebooks and convertible laptops that actually pack some power there's almost no reason to have a hefty computer humming away under a desk.
, ($1,624, shown) a super-thin laptop with a 12.1-inch display. The only problem: it doesn't have an optical drive, but then again, with the ever increasing functionality of web-based information, CDs and DVDs are quickly becoming optional.
If you're in the market for high performance, try any one of the hot (not burn "hot") new Intel Core 2 Duo laptops fromAlienware's. They're a bit pricey, but they're completely customizable and they're superiorly fast.
If you simply must have a stationary computer, however, consider something like the Shuttle XPC X100 (shown here). This tiny PC is about as big as a cereal box and has every audio and video output imaginable. Add an optical drive and build a mini media center that doubles as a homework station. A second runner-up is the Shuttle XPC SD37P2, one of the fastest, smallest PCs out there.
After a grueling three months of working at the local car wash and dealing with your parents' ridiculous nagging, it's time to go Back to School! With all that car wash money burning a hole in you're pocket, you're no doubt read to treat yourself to an HDTV. But there are loads of options out there and if you find yourself at the impasse of LCD, CRT and Plasma, we can help. First things first though: if you're living in a dorm, you should check to see if you can get HD–I know many dorms still aren't HD-friendly.
<img src="https://develop.techcrunch.com/wp-content/uploads/2007/01/her that no bed is a small price to pay for HDTV.
is a bit more expensive at $1,169, but it weighs a whole lot less than the CRT and takes up a lot less of your space. With a 4000:1 contrast ratio and 8ms response time, this LCD shouldn't have too much problems displaying black colors, something LCDs traditionally don't do so well on. The Samsung's also got loads of inputs in its petite trunk: 2 composites, 2 S-Video, 1 component, 2HDMI, 2 RF, 1 USB and 1 RS232. Also, there's two 10 watt stereo speakers and SRS TruSound XT virtual surround sound.
, which goes for a public-school-tuition price of $3,272. It's not only big, it has 1080p input support, which makes it perfect for the Blu-ray and HD DVD players you've no doubt already pre-ordered as well. Five composite inputs, two S-Video, three HDMI, one RF and one optical out makes this more pluggable than Evangeline Lilly from Lost. All your less financially well off roommates will thank you for it.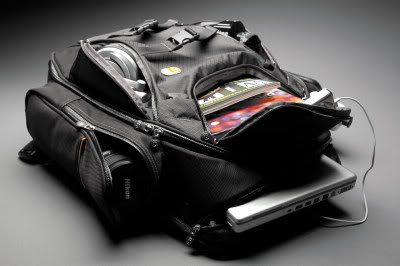 Finally, no student is complete without the assistance of a good bag. Given the quantity of gear we carry around, we here at CrunchGear have become something of bag aficionados. Top out our recommendations is the Python XM from Booq. This rugged daysack carries a 15″ laptop and conserves enough room for all of your other gear. You can easily fit all of your books and accessories without the bag becoming too bulky.
Those of you with photo gear should consider the Naneu Pro u120. In addition to being able to tote a 15″ laptop, it includes a removable photo pack that can store an SLR camera and several lenses. This bag is as rugged as they come and completely capable of carrying your precious gadgets through battle to safety.
So there you have it, kids. As always, we encourage you to do your own research to decide precisely what gear is best for you. But using our guide as a basis for your research, you should be good to go. Good luck and don't forget to study regularly, I know you kiddies can get distracted with your sock hops.