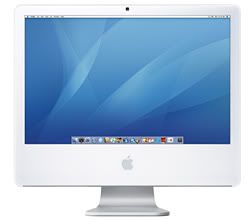 We reported yesterday that Apple would likely release a 24″ iMac at the "It's Showtime" event, but it looks like they just couldn't wait until September 12. Apple jumped the gun a bit and today added the new 24″ size to its store. The new system features:
24-inch widescreen LCD
1920×1200 resolution
2.16GHz Intel Core 2 Duo processor1
4MB shared L2 cache
1GB memory (2x512MB SO-DIMM)
250GB Serial ATA hard drive2
8x double-layer SuperDrive (DVD+R DL, DVD±RW, CD-RW)
NVIDIA GeForce 7300GT with 128MB GDDR3 memory
Built-in AirPort Extreme and Bluetooth 2.0
Apple Remote
In addition to the new 24″ model, Apple has also updated all of its iMacs to Intel Core 2 Duo chips starting at speeds of 1.83GHz and upgraded all the way up to 2.33GHz. Pricing for the 17-inch base model starts at $999 and the chart tops off at $1999 for the 24-inch. The store says it will be ready to ship in two to four business days.