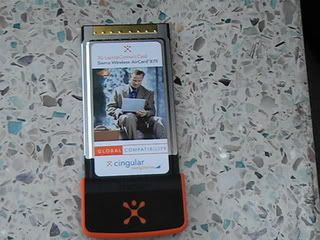 Here at CTIA, Sierra Wireless and Cingular Wireless have announced that they will be releasing the AirCard 875. The AirCard 875 is a 3G LaptopConnect card and also the first HSDPA 3.6 Mbps network card in America. The new AirCard will allow Cingular customers to have a mobile broadband connection in over 100 countries. The card will be retailing for $99.99 (after rebate) when Cingular customers sign up for a two-year unlimited DataConnect contract ($59.00). Not too bad of a deal if you're always on the go.
Sierra Wireless also announced the <a href="
embedded module. This USB modem supports EV-DO Rev A and comes with a dock that can can be used to plug the modem into your desktop if all your USB plugs have been filled.