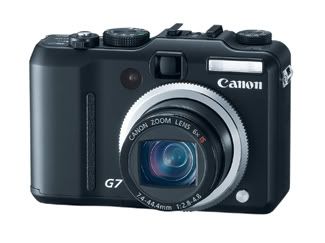 Canon loves to release a bazillion products in one day. Today they've announced a bunch of cameras that cover the gamut of shooting habits.
Three new cameras will be added to the Digital ELPH line. The SD900 shoots at 10MP, has a titanium body, zooms to 3x optical and supports those new 4GB SDHC cards–it sells for $500. The SD800 IS has 7.1MP, optical image stabilization and ISO 1600. It also features a 3.8x wide range zoom lens–it sells for $400. Rounding out its new ELPHs is the PowerShot SD40 Digital ELPH. It is the smallest of the bunch, measuring .94-inches and weighing 3.7-ounces. It too has a 7.1MP CCD, but it has only a 2.4x optical zoom. It will sell for $350.
Lastly, Canon will add the G7 to its PowerShot line. The G7 has 10MP and an f/2.8-4.8 6x optical zoom lens. It is capable of ISO 3200 in its special scene mode and has advanced noise reduction. It also features the new DIGIC III chip. The G7 will sell for $600.