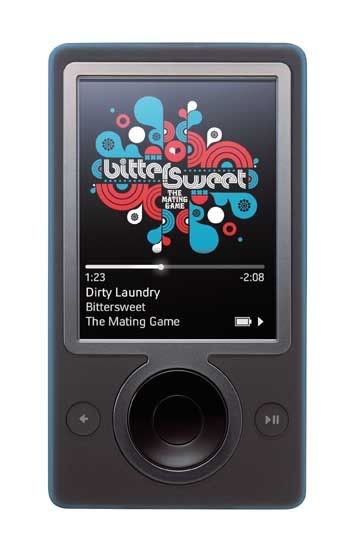 Microsoft today announced a bunch of official information on Zune. The first Zune branded digital media player will hold 30GB and will be available for the holidays. It features wireless connectivity, a built-in FM turner and a 3-inch screen. The big feature is its ability to share music wirelessly with the ingeniously named Zune-to-Zune sharing. It feels to me like Microsoft is putting a lot of eggs in the wireless sharing basket. I'm not convinced there is really that much demand for the feature, but I suppose we shall see.
More info after ze drop.
Some cool information was also stated about the Zune Marketplace. Users can download tracks individually or they can buy a Zune Pass that allows one to download as many tracks as desired for one flat fee. In addition to that, the Zune device will come preloaded with tracks from labels such as: DTS, EMI Music's Astralwerks Records and Virgin Records, Ninja Tune, Playlouderecordings, Quango Music Group, Sub Pop Records, and V2/Artemis. I like this move. Not only does it feature some smaller indie labels, but I like the fact that users will have music immediately.
Edit: Just got off the phone with Microsoft and we've got a bit more information. Microsoft sees this as an opportunity to build a community that celebrates and shares music. The focal point of this ambition is, of course, Zune's wireless connectivity. It features 802.11 b/g wireless that allows users to send music to one another. You can actually send a file to another Zune user, but it will only be playable three times or stored for three days, whichever comes first. This applies to all songs. Even if you decide to make an MP3 of your cat mewling, even though it's your own intellectual property (or maybe your cat's if you're carrying a PETA card), it's still restricted by the Zune Rule of Three. It's not perfect, but I guess it's better than just being able to stream tracks.
The Zune will include in the box earphones, a protective sleeve, a USB sync cable and a sticker (oh boy!).There is currently no price or release date, but Microsoft promises competitive pricing and availability by the holidays.