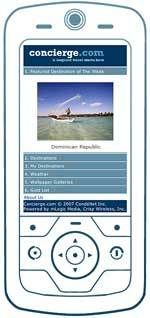 Concierge Mobile is now online, giving the popular website branch of Conde Nast's Traveler magazine added Mobile 2.0 functionality. The service itself is ingenious in its simplicity; if you find a listing you're interested in, and feel like taking it to go for later, you click the small cellphone icon above the title. A txt message is sent to your phone containing the URL to a mobile-friendly description, with the address and phone number.
You can send several of these notes to your mobile and cycle through them, much like old Hypercard stacks. The service correctly recommended Salumi's here in Seattle, and displayed the correct information, allowing me to sample again the best pork sandwich in the city.
The best part is that the service is free, and compatible with almost any mobile phone with Web access. It's not for everyone, but if you're a frequent traveler looking for the best most cities have to offer, it should be in your bookmarks today.