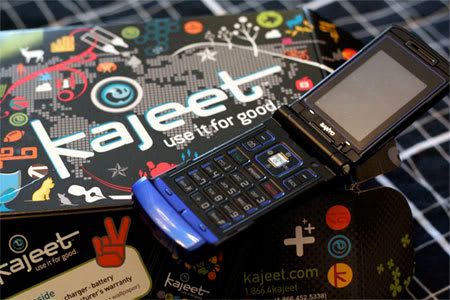 The Sanyo Katana – Could a kid step on it and break it? Mine almost did!
I just got in a phone from an interesting MVNO, Kajeet. The service is aimed at kids and their parents and offers a few basic features that Mr. or Ms. Mom and Dad might like.

Kajeet currently offers the Sanyo Katana, the LG LX150 and 225, and the Nokia 6165i. Each "kit" comes with $5 airtime, some stickers, and a ham-handed attempt at sounding cool which, as far as I can tell might work on the tweens but would definitely be rumble the aesthetics of a 13-and-up.

Stickers! For your phone! Phonestickers!
The service is fairly standard. Phones range from $49.99 to $99.99 and Kajeet offers free shipping. Voice calls are 10 cents a minute and SMS messages are 5 cents each. There is a 35 cent daily usage charge, which could eat into your fun, but is offered in lieu of cancellation charges. Mobile AIM is $6.99 per month and all the standard junk like ringtones and wallpaper cost a few bucks.

Block little Johnny from calling Fiji at 3am.
The real draw, however, are the parental controls. Parents can block certain numbers, ensure that kids can only call a few pre-set numbers and not use their own "wallet," and set blackout times for kids who might be a bit too chatty after lights out. Parents can create their own wallet to allow kids a spare bit of change if they run out of their own money and you can refill the phone online with a credit card.


The daily usage fee hurts.
Kajeet seems like an interesting marriage of hardware and software, ensuring that kids can call but not rock their parents accounts with hefty charges. Parents be warned, however. The characters and "Kajeet ROX 4U!" design is a bit cloying. I guess they focus grouped this stuff, but lines like "the cell phone 4U" made me a little woozy.

Legal stuff is hard!