Today we continue our report from the Electronic Entertainment Expo, and while some of the news of new controllers and upcoming titles has already been reported, we offer a recap of this morning's press conference from Nintendo. Normally a long winded and self-serving event this year Nintendo was streamlined and to the point.
"I am happy," were among the first words out Reggie Fils-Aime, president and COO of Nintendo of America, mouth and these easily summed things up as he opened Nintendo's press conference"Today is a celebration."
After trailing in the console wars for more than a decade the company has had strong sales with their Nintendo Wii. Nintendo didn't address the long-standing shortages, and supply chain issues that analysts believe could last into 2009. But Fils-Aime did state that in the 33 weeks since the release of the Wii, it has been sold out world wide.
As with the other players in the arena, Nintendo threw around various numbers on sales, figures and the like, but it was worth mentioning that the company sees more older gamers taking up the Nunchuck controller. And while there is 80/20 split between men and women gamers industry wide, it seems that the split is 67/33 with the Wii. And Nintendo head-honcho Satoru Iwata clearly sees the writing on the wall, stating, "we want to destroy the barrier be core gamers and novice players."
To this end Nintendo reiterated their commitment to delivering titles for both the core gamers as well as causal players, and the company announced that gamers of all levels can expect to see more than 100 titles for the Wii by this holiday season. These will include both first-party titles published by Nintendo, as well as third party developer titles. Among the high profile games arriving this year are first-party titles
Super Smash Bros. Brawl, Super Mario Galxay and Metroid Prime 3 Corruption.
Fils-Aime further added, "E3 may be seen as the coming out party for the entire industry. Video games will take their place aside movies, TV and music."
And thou Nintendo has been slow to embrace connectivity, there is a hint that things could change with Wii Ware offering free downloadable content beginning next year. This will also include a new Wii channel that will be called "Check Mii Out," and will let gamers enter their Mii and have others vote on them.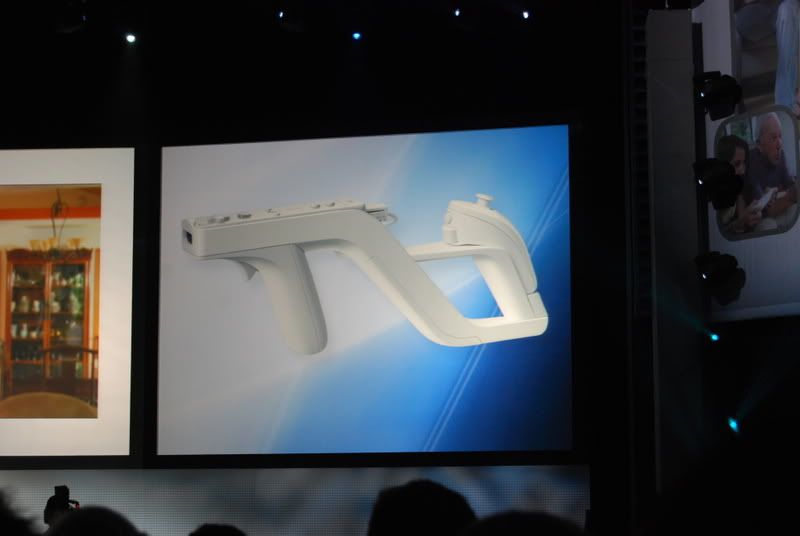 The big news on the hardware front wasn't a new system or even a revamped version of an existing system (an old Nintendo favorite tactic), but rather actual peripherals that gamers might actually want! Unveiled were two new additional hardware controllers, both of which take advantage of the unique style of gameplay inspired by the system's "Nunchuck" and Wiimote.
Called the Wii Zapper, this is essentially new housing for the controllers and comes in the shape of a small machinegun, and is designed with first-person shooters and action games in mind, notably the upcoming Resident Evil: The Umbrella Chronicles will be among the first titles to take advantage of the game, while other titles such as Electronic Art's Medal of Honor will also be compatible with the Wii Zapper. Fils-Aime stated that the controller will be packaged with an upcoming software title this year, and also sold separately for $19.99. "What is more fun than Wack A Mole," asked Fils-Aime, to which he replied, "try zap a zombie."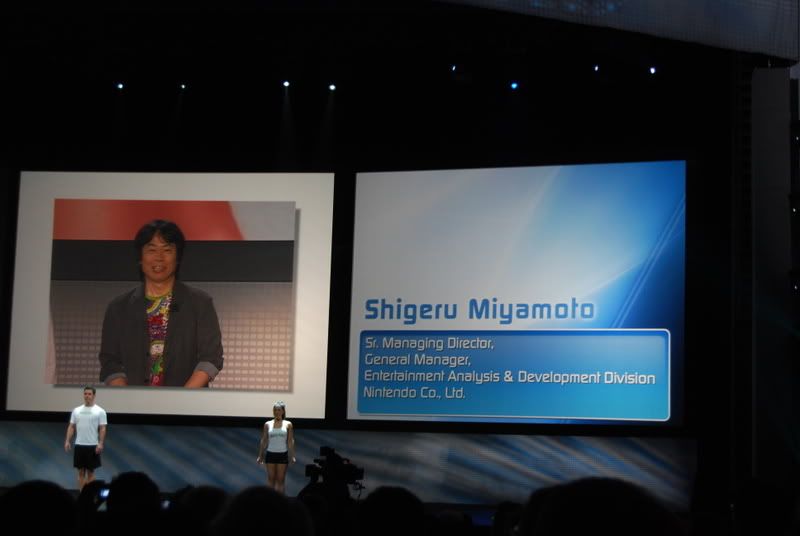 "We thought that the Wii would be a device placed in the living room and be relevant to everyone in the home," said Nintendo senior managing director Sigeru Miyamoto, "The one subject we felt we had to address was health." While the Wii Zapper is clearly aimed at core gamers, the upcoming Wii Fit and Wii Balance Board could become a suitable follow-up to the smash hit Wii Sports. The fitness workout simulation will feature more than 40 activities including rhythm-based mini-games, as well as actual fitness measurements that allow gamers to track their center of gravity and body mass index. The games include dodging soccer balls to step-based fitness routines, to actual yoga type gameplay (that is if you can call yoga poses gameplay). And although Fils-Aime didn't actually score so well on stage when he demo'd the BMI measurement, he did suggest that his clothes were to blame. More importantly he stress that the health of his company is very good. "Nintendo is not a fade. Nintendo is the future."