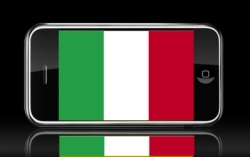 Two things you can say about Italians: that they've been eating their heart out for not pushing a Series A team to the Champions League's final in Rome, and that they go mad about mobile phones. Italy has 88.58 million subscribers in total – that's an eye-watering 152.4% penetration rate, one of the highest in Europe. And 3G traffic has been rising considerably with all the main mobile carriers spending plenty on infrastructure.
However, smartphones are struggling to become a preferred device for the mobile web: the iPhone and Blackberry are being kept average users by prohibitive pricing, even though it's possible to get a (pricey) 3G iPhone in Italy unlocked without a two year contract. Android-powered HTC phones have yet to make much impact, having only hit the market just a few months ago. On top of that, there seems to be a lack of mobile-optimized content, except for Facebook.
In this scenario Yahoo! Italy has launched its mobile search and rich content platform, with a new interface that groups a search tool, a social aggregator and a live news feed. The product was launched yesterday in Milan by Charles Sword, head of mobile advertising Yahoo! Europe, together with Lorenzo Montagna, head of Yahoo! Italy.
Yahoo! Mobile had been launched before in other countries around the globe, but this time it's going to face an unusual market growing at unusual speed.
It's hard to say if this is going to be a real milestone in Italy's path to the mobile web, considering that the operators' market is anything but dynamic. One thing is for sure: Yahoo! Mobile won't be useful to those Italians still looking for an answer to that uncomfortable soccer question.
[Guest post by Marco Pezzano, @marcopez]