You might call it a Hollywood makeover of the tech industry; Netflix, a company that used to send you DVDs by mail and was almost sold to Blockbuster for a paltry $50 million, is now a juggernaut staring down big TV networks as it makes their programming and business models seem almost archaic for today's world.
The streaming service effected a culture of entertainment being "anywhere, on anything and anytime you like" as the benchmark expectation for an entire generation, forcing other networks out of their comfort zones and making them up their games.
But to Asian internet users, Netflix seemed like another among many of the wonderful first-world luxuries that kept making waves on the news but never seemed within reach. Even today, being a native South Asian, it's difficult getting used to the idea that one can get a Netflix subscription where high-speed internet access is still not available to everyone. The service was, until recently, available in only a select few regions with varying limitations on its library.
The past two years have witnessed a renaissance of worldwide expansion in tech companies. The services that had been exclusive to the U.S. and Europe swept through Asia with unprecedented efficiency. You can now summon an Uber cab in New Delhi or ask Google Now to help you navigate the wild valleys of Swat in Pakistan. This is because these companies aren't unaware of the fact that Asia is currently the driver of the world's economy, while other continents' financial conditions are ever-increasingly strained. The continent's snowballing growth is showing no signs of stopping, thanks to domestic supply and demand.
Against well-adapted local players
When Netflix set foot in developing and emerging markets such as India, it was greeted by stiff competition, long-established and deeply rooted among local audiences from the get-go. Players such as HotStar, a streaming service run by STAR India, and Eros, a company that both produces and distributes a large selection of Bollywood movies and Indian TV shows online, had seized the opportune power vacuum early while Netflix had been fixated on U.S. and European markets.
These upstart players found success by catering to local tastes while keeping the price-of-entry in line with the region's socioeconomic expectations. HotStar understood the mania that drew a large viewership for live cricket in India, while Eros Entertainment brought its offerings to the masses with free basic plans.
Netflix, meanwhile, currently offers its most basic subscription for 500 INR (or around US$7), more than twice the cost for a monthly subscription to HotStar. Considering the fact that Netflix is still severely lacking when it comes to licensed local content available for streaming, the asking price falls somewhere between luxury and redundancy. Given the massive amounts of popularized content being churned out by Bollywood and Indian television every year, the Netflix library immediately loses its premium label and luster for the average user in India.
In South-East Asia alone, the video-on-demand streaming market is projected to generate up to $42 million in subscription revenue in 2016. — Media Partners Asia
No longer the first to market
In other parts of Asia, there are more than 35 different streaming services catering to local markets with similar strategies. iFlix, available in Malaysia, Thailand and Philippines offers licensed content from U.S. studios to a subscriber base surpassing 1 million viewers. In Indonesia, the situation becomes bleaker for Netflix, as some ISPs are outright blocking its services, while iFlix has forged partnerships with local satellite services such as Ooredoo. Indonesia has the fourth largest population in the world, with more than 100 million internet users, a number that is projected to grow to 133 million in the next 3 years.
The great walls of China
Other challenges the streaming giant faces range from political to regulatory. The proverbial elephant on the list of countries in which Netflix has yet to launch is China, where it may take years for the service to get greenlit, if at all.
China represents the second largest theatrical market in the world, and is quickly becoming the benchmark for international success for movie studios. When big budget risks such as Terminator Genisys and Pacific Rim failed to spark at the box office in western markets, they found resounding success among Chinese audiences, where moviegoers are not only accustomed to Hollywood's over-the-top flare and spectacle, but outright expect it. It's needless to say that catering to the Chinese market is becoming increasingly important for studios producing global content these days.
There are caveats, though.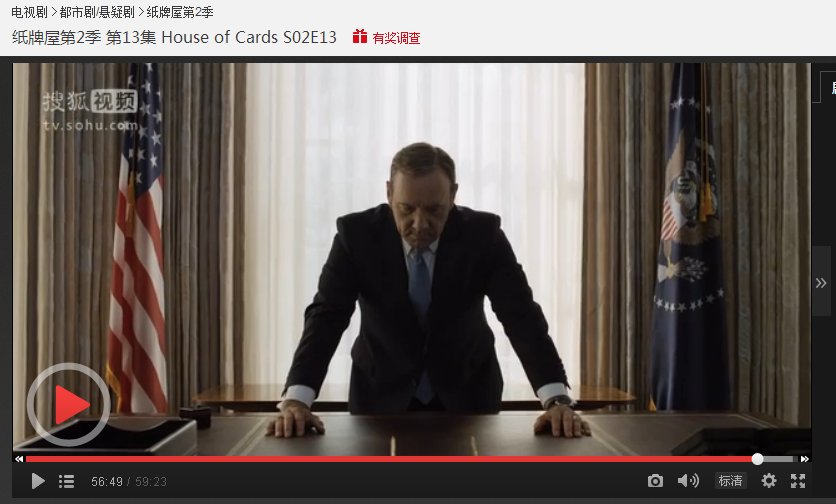 In China, Netflix cannot operate without specific permission from the government, and even then it has to walk a razor-thin line over the nature of content it can and cannot distribute in the country. The Chinese government monitors, moderates and censors all content its citizens can access online.
Netflix's "House of Cards" found an unlikely audience on Chinese streaming site Sohu, to the extent that it became the most popular show at the time before censorship authorities caught wind of it and took it down. Chinese censorship laws prevent not only violence and sexually explicit content, but also dictate that any content based on anti-authoritarian, anti-military, religious or political themes be blocked altogether.
"Recently, China's online entertainment censorship regulations have actually become stricter and must officially meet the same standards met by more conservative television stations," says Aynne Kokas, an Assistant Professor of Media Studies at the University of Virginia. "In practice, online content is much more difficult to regulate because of the vast numbers of distribution options available. But I don't foresee a more formal liberalization of online censorship happening in the near term."
When I asked her whether Netflix had the capacity to adapt to such restrictions, she added: "I do envision Netflix altering, or at a minimum, expanding, its content to cater to China. We can already see that happening with Netflix original programming like Marco Polo and Crouching Tiger, Hidden Dragon: The Sword of Destiny. The film was partly funded and distributed by Netflix in the U.S., but was also produced and distributed by the China Film Group in China. Netflix is already working with Chinese partners on content and distribution."
What does not help Netflix's case is the fact that most successful streaming services operating within China's walled-off internet are funded by the government itself, adding to the list of hurdles that Netflix must vault over before it can even begin operating within the region. Other limitations include regulations like the mandatory government requirement for all broadcasters to host no more than 30 percent of foreign content, something that Netflix already struggles with when it comes to content licensing (as noted in previous examples).
What would success look like?
In order to break into the largest markets in Asia alone, Netflix not only has to convince the governments to allow its operations, but also dance around regulations, censorship, finding appropriate content partners for licensing and original content.
To put things into perspective, it took a juggernaut like Apple Inc. six years just to forge a partnership with China mobile before they were able to launch their products in the region. Similarly, Uber spent an exorbitant amount of time, money and effort to set up its operations in China.
The fact that these companies still took on these challenges and investment risks to break in to these markets, however, stands as a testament to the lucrative nature and the shifting benchmark for successful globalization that Asia represents to the world. And here we have a company that has single-handedly declawed traditional TV and cinema's monopoly on entertainment, and has transcended into millennial culture like no other brand before it. If there's anyone that can make lightning strike twice, it's probably Netflix.